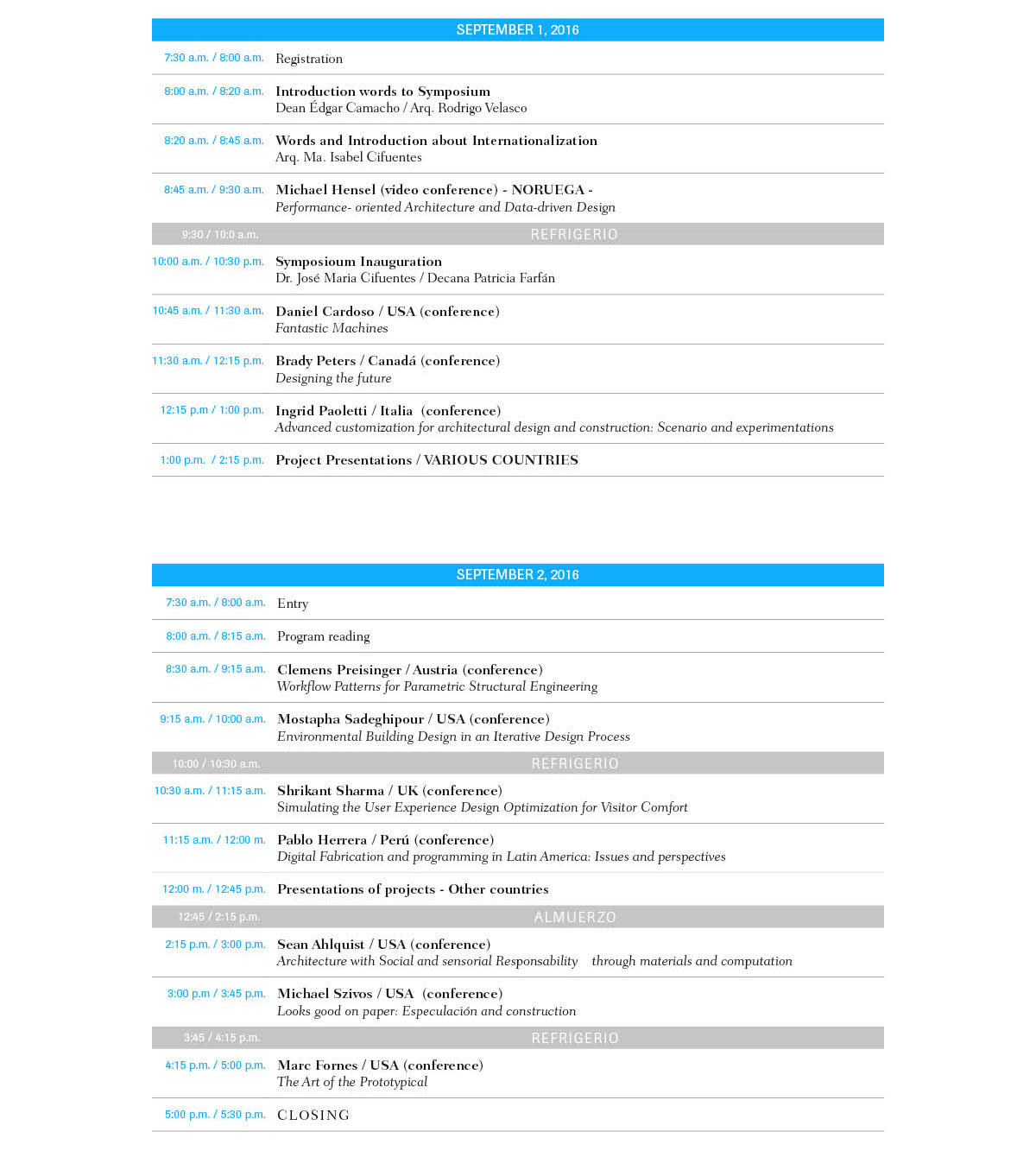 REGISTRATION:
External participants
Pay online: $100 USD
More information: info-arquitectura@unipiloto.edu.co

KEYNOTE SPEAKERS:

Brady Peters is an Assistant Professor at the Daniels Faculty of Architecture, Landscape, and Design at the University of Toronto where he teaches graduate courses in design, computation, and visual communication.  Brady is a director of Smartgeometry, an international organization of professionals and academics that explores the forefront of technology and architecture.  Professionally, Brady previously worked at Foster + Partners where he was an Associate Partner with the Specialist Modelling Group.  He worked on projects such as: the Kogod Courtyard at the Smithsonian, the Copenhagen Elephant House, the Khan Shatyr Entertainment Centre, Thomas Deacon Academy, and the ARC table.  Brady Peters recent publications include an Architectural Design (AD) journal titled «Computation Works: The Building of Algorithmic Thought», and the book «Inside Smartgeometry: Expanding the Architectural Possibilities of Computational Design».  He is working on a new book, «Computing the Environment,» which will be published by Wiley in early 2017.  Brady Peters' current funded research projects include: developing design tools for form-finding grid shell structures, integrating sound into digital architecture workflows, and the computation of environmental performance.

Ingrid Paoletti is an assistant Professor of Building Technology at the Architecture, Built Environment and Construction Department (ABC) at Politecnico di Milano. She is a member of the Scientific Committee of the PhD Program in «Project and Technology for the enhancement of Cultural Heritage», she is member of the committee of the department and in the technical committee of the Laboratory for Technical Information. She is coordinator of the Politecnico Cluster on «Innovative technologies and construction industry». She is a delegate for the relations with India at Politecnico di Milano. She is a CIB member, Working Group 119 on Industrialization in Construction and of the IIMCP network on Mass-customization. Ingrid Paoletti's research activity is characterized by a constant interest in deepening the role of technical innovation in architecture with a particular emphasis on innovative envelopes and advanced construction methods. A special interest is focused on the role of innovative technologies and tools to combine design and production.

Clemens Preisinger is an structural engineer from the Technical University (TU) Vienna with a master degree in 2002.  After this he worked as a research assistant at the Institute for Structural Concrete at the TU Vienna. This four years term combined research activities and lecturing and resulted in a PhD-thesis with the title 'Numerical and Experimental Investigations Regarding the Transformation of Flat Slabs to Double Curved Shells'. From 2006 to 2008 he worked as an engineer in a civil engineering office with its main focus on underground engineering and bridges. In 2008 I changed to Bollinger–Grohmann–Schneider an engineering office with its main activities in the field of structural design. From 2009 to current he have been a project assistant at the University for Applied Arts and have contributed to various research projects. Since 2010 I develop the parametric Finite Element program 'Karamba'.

Michael Szivos SOFTlab is a design studio based in New York City with focus on research, craft, and ideas. The studio was created by Michael Szivos shortly after receiving a graduate degree in architecture from Columbia University. The studio has designed and produced projects across almost every medium, from digitally fabricated large-scale sculpture to interactive design to immersive digital video installations. In 2012 SOFTlab was awarded the Architectural League Prize for Young Architects & Designers, and previously in 2010 the studio was selected for the New Practices New York award by the AIA Chapter of New York along with seven other young studios. The studio has produced a wide range of design projects and collaborated with various artists, designers, publications and institutions including MoMA, The Metropolitan Museum of Art, New York Hall of Science, Eyebeam, New Museum, Vice Media, Intel, The New York Times, 3M, EPFL, Adobe, Pratt Institute, and Columbia University. The studio has exhibited work in galleries throughout New York City. The studio continues to work on many projects in New York while taking on new projects and clients in Europe and Asia.

Michael U. Hensel [Dipl. Ing. Grad Dip Des AA PhD Reading] is an architect, researcher, writer and educator. At present he is tenured Professor at the Oslo School of Architecture and Design where he directs the Research Centre for Architecture and Tectonics [RCAT]. He is founding and acting chairman of OCEAN – Design Research Association and has published authored and edited numerous books and journals.

Is an Assistant Professor of Architecture at the Taubman College of Architecture and Urban Planning. He is a part of the Cluster in Computational Media and Interactive Systems which connects Architecture with the fields of Material Science, Computer Science, Art & Design and Music. Research is centered on material computation, developing articulated material structures and modes of design which enable the study of their material and spatial behaviors. Ahlquist's research formulates computational design frameworks where materiality functions as a primary agent in the organization of architectural systems and their spatial tectonics. In particular, the research explores and develops new technologies in highly articulated textile and composite materials. Research is developed through the use of a large-scale industrial CNC knitting machine, a part of the FabLab at Taubman College. This highly advanced manufacturing technology enables great depth of research into the fiber composition of yarns, intermingling of knit structures, and shaping of seamless manifold forms. Ahlquist's research agendas include the design and fabrication of pre-stressed lightweight structures, innovations in textile-reinforced composite materials for aerospace and automotive design, and development of tactile and extensible interfaces for physical computing. These intensely collaborative streams of research involve professors, students, and researchers from Aerospace Engineering, Structural Engineering, Computer Science, Music, Art & Design, Information and Human Interaction, and Biology/Biomimetics.

Shrikant leads Burohappold Smart Space, founded by Shrikant in 2002, is pushing the boundaries of technological innovations in the industry, which is reflected in its suite of smart, intuitive, flexible and highly interactive software developed in-house. These include tools for rapid / real-time space analysis, integrated building modelling and optimisation, crowd flow simulations, automated sensing, live performance visualisation, and Big Data analytics. This 'people-cantered' design approach uses our insights into people's behaviour, activities and journeys to maximise space utilisation, wayfinding, circulation efficiency, retail revenues, operational effectiveness, resilience, and ultimately visitor experience. Shrikant is a leading consultant on people movement and has led and executed several major consultancy projects, in sectors ranging from master planning to detailed design of major exhibition and cultural events, airports, hospitals, and major transport hubs. He has a particular flair for communicating – in a visually engaging manner – the bottlenecks, risks and opportunities from existing or proposed spaces, and how they can be transformed into inspirational, safe and inclusive places. Through the lens of multidisciplinary thinking, Shrikant has a particular focus on cutting edge research and development of sophisticated BIM-integrated modelling tools and emerging technologies for early stage design optioneering as well as real-time visualization and predictive modelling.
· Pablo Herrera (UPC-Universidad Peruana de Ciencias Aplicadas) Perú / pablocherrera.blogspot.com.co

Pablo C. Herrera develops workshops and lectures incorporating emerging digital technologies in Latin America, and, from that point, the use of self-learning techniques in order to enhance local traditions and patterns, according to culture and reality. He has coordinated and researched space and shape problems using algorithms and programming, establishing since 2006 the implementation of these techniques in many Latin American universities with multidisciplinary postgraduate students from USA and Europe. His research and workshops have been presented in several cities such as Santiago de Chile (2006-2007), Mexico (2007), Lima (2007, 2011), Havana (2008), Medellin (2008), Sao Paulo (2009), Bogota (2009-2010) and Valparaíso (2009, 2011). Since 2007, he has published refereed papers, journal articles, some of which have won best presentation awards. He is president of SIGraDi (Sociedad Iberoamericana de Gráfica Digital) and elected editorial board member of IJAC (International Journal of Architectural Computing). He is also peer‐reviewer at CAADRIA, eCAADe, ICDHS, CAAD Futures and SIGraDi. He was one of the six Latin Americans invited to exhibit and publish the results of their academic work at the III Architecture Biennial Beijing (2008) and at the IV Architecture Biennial Beijing: Machinic Processes (2010).
· Daniel Cardoso (Carnegie Mellon)  USA / www.dcardo.com

Is an architect, design scholar and researcher interested in issues of automation in design, interdisciplinary creativity, human-machine interaction, and technological cultures in architecture and design. He teaches architecture in the School of Architecture at Carnegie Mellon University, where he chairs the Master of Science in Computational Design and co-directs the CoDe Lab. His work explores problems ranging from social and cultural aspects of automation in design, the politics of representation and participation in software, and new methods for using data to visualize design as a socio-technical phenomenon. His recent research includes a book on the cultural history of Computer-Aided Design and numerically controlled machinery that examines how postwar technological projects shaped conceptions of design informing current architectural practices: Builders of the Vision: Software and the Imagination of Design (Routledge, 2015). A scholar committed to fostering critical and inquisitive perspectives on design technologies, Daniel has lectured extensively and conducted numerous workshops on computational design in universities across the globe including Harvard, Cornell, and MIT. His students' work has been shown in venues including the New York Center for Architecture, the New York Guggenheim, the Beijing Biennale and TED. He has published articles and essays in AD, Design Issues, Thresholds, and IJAC among others. He has co-chaired the editorial board of SIGRADI, and regularly serves in the scientific committee of conferences and journals including IJAC, CAADRIA and SIGGRAPH. Daniel holds a Masters of Science and a Ph.D. in Architecture: Design and Computation from the Massachusetts Institute of Technology, and a B. Arch from Universidad de los Andes. He has consulted as a computational design specialist for Gehry Technologies and Kohn Pedersen Fox, among others, and practiced as an independent licensed architect and media designer in his native Bogotá.

Marc Fornes is a registered Architect DPLG and founder of THEVERYMANY™, a New York based studio engaging Art and Architecture through the filter of systematic research and development into applied Computer Science and Digital Fabrication. His prototypical structures and unique organic environments are included within the permanent collections of the Centre Pompidou, the FRAC Centre and the CNAP. He has been exhibited at institutions worldwide including the Guggenheim ("into the void") and sold work at Art Basel Miami/GGG, Art Paris, Phillips de Pury and Sotherby's. Marc is a TED Fellow. He was artist in residence at the Atelier Alexander Calder (2012). His pop up store for Louis Vuitton & Yayoi Kusama is the very first carbon fiber self-supported shell structure applied to architecture and was awarded an A+ Jury Award as well as the 40th Annual Interior Design Award by the IIDA. His practice was also awarded New Practices New York by the AIA (2012), the Architectural League Prize (2013), Design Vanguard by Architectural Record (2013) and the WAN 21 for 21 Award. Marc's on going involvement with academia includes co-starting with Francois Roche (n)Certainties, a graduate studio mixing custom computational protocols with open ended narratives, at Columbia University, the University of Southern California and Die Angewandte in Vienna. He is currently teaching at Princeton University and with Patrik Schumacher at Harvard GSD.

Mostapha Sadeghipour Roudsari is a designer and software developer focused on the integration of parametric environmental analysis and architectural design. He is the creator of open-source environmental plugins Ladybug, Honeybee and Butterfly and web applications such as epwmap and Pollination. He lectures and teaches seminars frequently throughout Architecture and Engineering schools, the AEC community, and as a lecturer at the University of Pennsylvania.